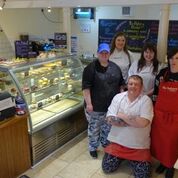 There are six people in our Bakery team:
Colin Mclellan is our Bakery Manager and has been in the baking profession since he left school. He formerly owned and ran Stella's Bakery on the High Street with his wife.
Paige Bisset is a Junior Baker and talented chef who has worked in Michelin Star restaurants. She specialises in sourdough and yeasted breads.
Nikolette Neneth is a Junior Baker and specialises in the sweet and savoury baked goods.
Marie Drever has recently become our Trainee Baker having formerly worked in the Bakery shop.
Jo Arnott is our Shop Manager and is responsible for the front of house and wholesale customers.
Lesley Hogg and Amy Dewar also assist part-time in the shop along with other friendly faces at weekends.
Dunbar Community Bakery is overseen by a volunteer Management Committee chaired by Erica Wimbush.
We also rely on many other volunteers who undertake our morning deliveries, staff market stalls at weekends and so much more … we are much indebted to them.